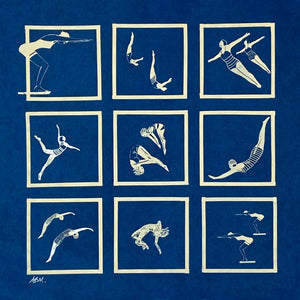 Measuring an 36cm x 36cm (approx.) These individually printed Cyanotypes Photograms are made up of 9 individual 10cm squares depicting the glamour of swimming and diving.
Each square contains an originally hand drawn image
Each of the 9 squares (along with their images) are individually hand placed to make each new image.
Some may look similar but none are ever the same making each 3x3 'In to the Deep' unique to you. 
Available for delivery World Wide in a roll tube ready for you to take to your local framer.
The 3x3 'In to the Deep' Series make a beautiful addition to any beach inspired decor.  Think Summer Beach House.
Available Mounted as a Gift - contact me to start discussions about delivery.  Extra P&P charges (regrettably) will apply.