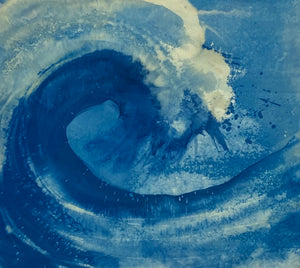 The glorious sea again rolls in her curling white-capped rollers - Rising, restless 'White Horses' breaking with the sound of thundering hooves.
Mounted. Image size approx. 46cm x 46cm
This is Cyanotype Art using traditional Cyanotype Solutions but with the use of additional PH altering solutions to bring out a full spectrum of blues reminiscent of being with the breakers
To find out more about how Cyanotype Prints are made by viewing The Process.