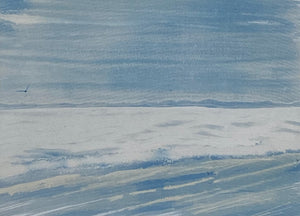 An Original (1 of 1) Statement Seascape in Cyanotype Art.  Hear the rush of the waves, with the cry of the gulls and feel the salty wind in your face.  Stand at the water's edge and just be.
This is a Cyanotype Photogram (with the use of additional solutions) to bring out a full spectrum of blues reminiscent of the Scottish Coastline on Summer Mornings.
To find out more about how Cyanotype Prints are made by viewing The Process.