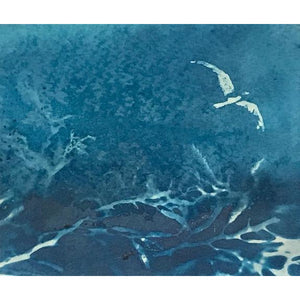 An Original (1 of 1) Cyanotype Art.  Inspired by that point on the horizon where sea and sky become inseparable looking out across the Moray Firth to the Black Isle.  
XXX currently unmounted for safe worldwide delivery (but let's start a discussion about backing and mounting free of charge if that's your preference)
This is a Cyanotype Photogram (with the use of additional solutions) to bring out a full spectrum of blues reminiscent of the Scottish Coastline on Summer Mornings.
To find out more about how Cyanotype Prints are made by viewing The Process.