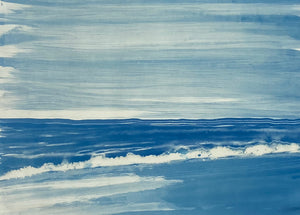 An Original (1 of 1) Statement Seascape in Cyanotype Art.  Inspired by that point on the horizon where sea and sky become inseparable looking out across the Moray Firth to the Black Isle. The white horses that top the waves just keep rolling inwards.  
Unmounted.  Image size approx. 57cm x 40cm
This is a Cyanotype Photogram (with the use of additional solutions) to bring out a full spectrum of blues reminiscent of the Scottish Coastline on Summer Mornings.
To find out more about how Cyanotype Prints are made by viewing The Process.