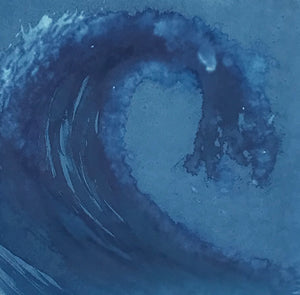 A huge sea of granite grey waves flecked with foam- resounding and roaring loud.
Mounted. Image size approx. 34cm x 30cm
This is Cyanotype Art using traditional Cyanotype Solutions but with the use of additional PH altering solutions to bring out a full spectrum of blues reminiscent of being with the breakers
To find out more about how Cyanotype Prints are made by viewing The Process.