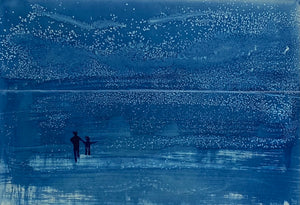 An Original (1/1) Mixed Media Cyanotype & Gouache Print.  
Image size 58cm x 35 cm currently unmounted for safe worldwide delivery (but let's start a discussion about backing and mounting free of charge if that's your preference)
This is a Cyanotype Photogram (with the use of additional solutions) to bring out a full spectrum of blues reminiscent of a Scottish Winters Clear Sky Star Gazing.
To find out more about how Cyanotype Prints are made by viewing The Process.