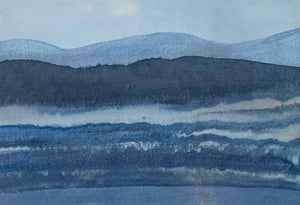 An Original Abstract Cyanotype Seascape.  Staring at the horizon in the rising and fading light of the beach at sunrise and sunset.  An ever changing trick of the light with mist and sea spray that fogs the horizon.
Printed on the back of a 'fluffy' (for want of any better word) recycled wallpaper which gives added texture and shade variants than straightforward paper to make this a totally original cyanotype.
48cm x 68cm approx. Mounted and wooden backed.