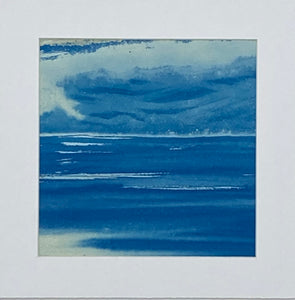 An Original (1 of 1) Miniature Seascape in Cyanotype Art. Stand at the water's edge, feel the salty wind in your face and just be. 

Mounted.  Image size approx. 17cm x 17cm
This is a Cyanotype Photogram (with the use of additional solutions) to bring out a full spectrum of blues reminiscent of the Scottish Coastline on Summer Mornings.
To find out more about how Cyanotype Prints are made by viewing The Process.